Flexpro™ Style PN is comprised of a concentrically serrated solid metal core with a soft, conformable sealing material bonded to both faces.
The soft material provides low stress gasket seating and the strong metal core provides rigidity and blowout resistance. The serration profile on the metal core enhances sealing performance by inducing stress concentrations on the sealing surfaces.
These gaskets are ideal replacements for jacketed gaskets on heat exchangers as they offer better sealing and seating performance. The Flexpro™ is ideal for bolt compromised and complex applications which are restricted in area, have high system pressure, the Flexpro™ also retains its integrity under severe loads.
Low seating stresses required due to highly conformable facing materials Robust and has high blow out resistance.
A selection of facing and core materials can be specified to suit the application.
Profiles available in a variety of forms and to a variety of standards to enhance the sealing performance.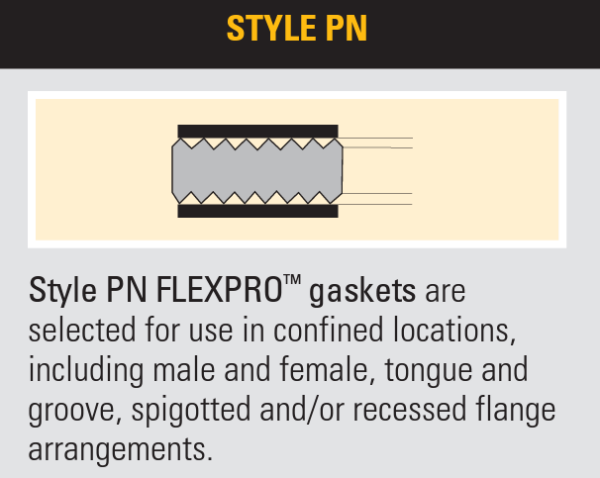 |   |   |
| --- | --- |
| Brand | Flexpro |
| Flange Face | Flat, Raised, T&G, S&R & TEMA |
| Maximum Temperature | 450°C / 842°F |
| Media | Hazardous |
| Minimum Temperature | -240°C / -400°F |
| Pressure | 431 Bars / 6251.14 PSI |
| Pressure Class | 150, 300, 600, 1500, 2500, 400, 900 |
| Pressure Rating | PN10, PN16, PN25, PN40, PN64, PN100, PN160, PN250 |