Introducing: Sigma® ONE
HIGH PERFORMING BIAXIALLY ORIENTATED PTFE
WITH A PROPRIETARY FILLER.
Flexitallic's SIGMA® ONE was developed to meet the industry's most critical chemical service applications. Research & Development efforts extended over two years in order to provide the market with a PTFE-based sealing material that was truly ideal for service.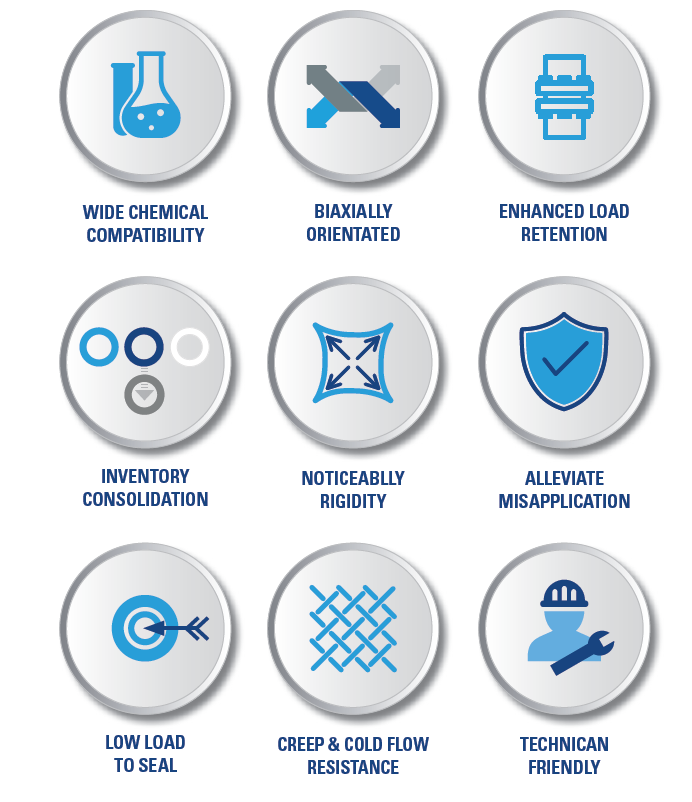 Flexitallic's proprietary manufacturing process allows for high-performance in every direction (biaxial).
The formula incorporates PTFE & a proprietary filler, which are both well-known for their exceptional chemical resistance.
Reduced risk of misapplication and inventory consolidation are a result of  SIGMA® One's excellent chemical compatibility.
High compressibility provides easier installation and lower load to seal, minimizing the likelihood of equipment damage.
SIGMA® One provides superior creep & cold flow resistance, increased sealability, decreased emissions & peace-of-mind.
SIGMA® One's biaxially-orientation makes it the ideal solution for applications with elevated mechanical requirements.
UNIVERSAL CHEMICAL COMPATIBILITY
Until now, chemical manufacturing facilities have been required to utilize a variety
of conventional-filled PTFE materials to cover the chemical range in its entirety.
Thus, increasing the likelihood of gasket misapplication.
PTFE is commonly used for sealing within chemical service applications.
100% Pure PTFE provides excellent chemical compatibility, but does have its drawbacks.
Pure PTFE is not stable under heat & pressure, which is known as "creep." Excessive "creep" results in the loss of load on the gasket, and therefore increases the likelihood of leakage.
In order to minimize creep, fillers are commonly added to PTFE during the manufacturing process.
Fillers help to stabilize the gasket, but each has its own chemical compatibility limits and related trade-offs.
The most common fillers are glass spheres (blue), silica (fawn), and barium sulfate (bone or off-white).
Many companies must utilize a wide variety of materials to properly seal the assortment of chemical service applications.
Companies that utilize a variety of PTFE sealing materials are more at risk of misapplication, which can negatively impact safety, reliability, and up-time.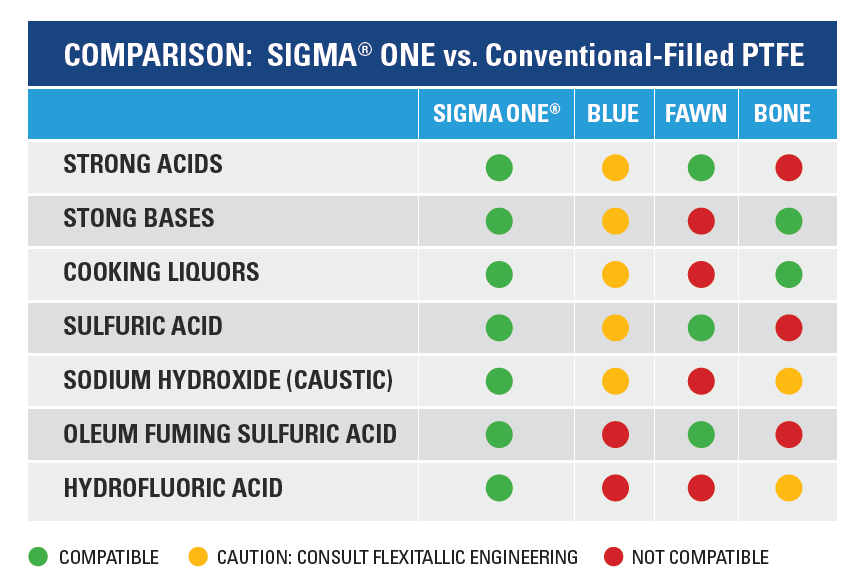 When compared to other conventional-filled PTFE (glass spheres, silica, barium sulfate) sheet sealing materials, SIGMA® ONE's near universal chemical compatibility minimizes the risks associated with gasket misapplication.